Protto continues his slog through Haganai with Haganai NEXT.
Haganai NEXT: Distractions
By Protto

You tell 'em, Kodaka!
Wow, no way – a second season of this stellar anime? It's simply too good to be true. If you're like me (which you should be), you probably want to get into it so desperately you're bursting with excitement.
So what is our group of bee-eff-effs up to this time? Actually, I think a better question would be what aren't they up to. The gang is back – and wackier than ever! Nothing can stop these crazy kids when they're having fun!
From taking a club outing to the amusement park to ride a rollercoaster ten consecutive times, to making their own student film, to playing the frequently overlooked King's Game… You know it's going to be a party no matter what happens. And lucky us, we get to clearly see that party in all its visual glory thanks to AIC Build's liquid smooth and hyper detailed animation.
Ah, what am I saying. Animation doesn't matter at all! What we're ALL here for is the story. And what a tantalizing story it is. There's just something juicy about it that makes you want to delve ever deeper to find out what happens next.
It starts out with business as usual in the Neighbors Club, until, unexpectedly, Kodaka finds out his substitute imouto, Maria, has an older sister… which makes her Kodaka's new imouto too! What an elaborately woven family tree you have there, Kodaka. What do you think about all this, Kobato, you being the Original Imouto?
N-no, you've g-got that wrong, Kobato! I didn't make them do anything – they wanted to be my little sisters of their own volition! B-besides, it's not like there's anything inappropriate with our relationship…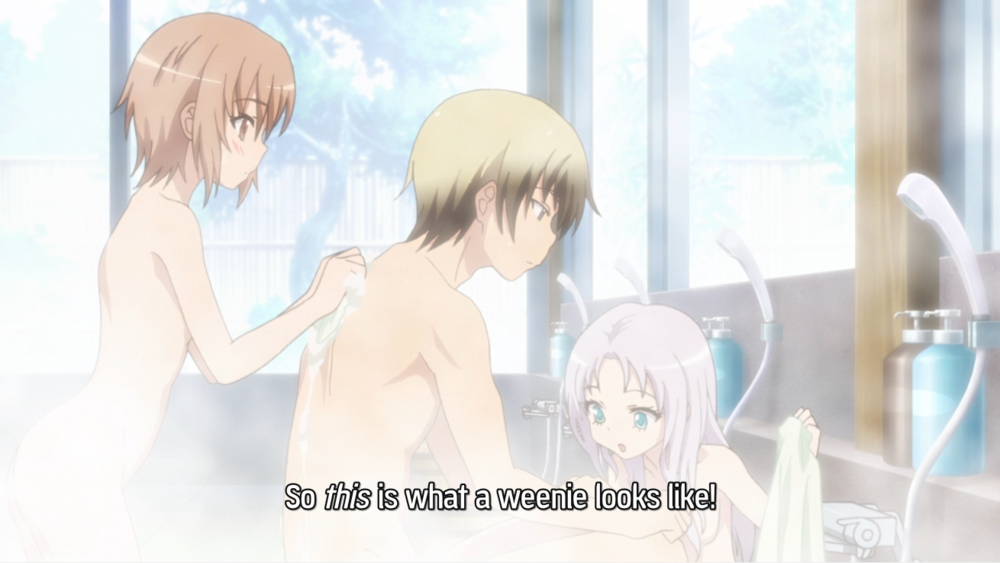 Suddenly, plot twist! The trap on the left, Yukimura, turns out not to have ever been a trap all along. She just got confused and thought she was an extremely feminine boy.
But even so, Yukimura's feelings remain unmoved. Her friendship with Kodaka will never change, and therefore, she wants to continue being treated like his little brother (with benefits). You read that correctly. Yeah, that's right, shitlord! If Yukimura feels like a little brother despite her physical gender, then she is Kodaka's little brother. This is a natural and beautiful and healthy relationship with no parties getting hurt, so why do you hate? In the spirit of friendship, we're all kyoudai here, are we not?
And besides, it's very moe.
Sadly, Yozorais now feeling like she's been hung out to dry, what with all this friendly attention Kodaka's been giving his other peers lately. Oh well, at least you'll always carry the distinction of being Kodaka's one and only childhood friend…
Guess again! If you can believe it, Sena and Kodaka were childhood friends even before Yozora. It was so early in their lives they can't even remember it. That's right, by some cosmic comedy of coincidences, Yozora and Sena are both Kodaka's childhood friends!
With that side plot completely resolved with no loose ends whatsoever, let's move onto Sena. Just like in the last season, she loves to play dating sims, hilariously thinking they help her gain more social skills in attracting female friends, when, in reality, they are simply smut!
Not to mention, she still harbors an unhealthy obsession for Kodaka's imouto, sometimes dressing her up in totally cute outfits. Take notes, everybody. This is what we call "consistent characterization." In the first season we were introduced to Sena's one-of-a-kind personality, and here she acts the exact same way in the second season. It's like poetry. It rhymes.
But wait! Something's not so identical this time around! Out of left field, Sena suddenly confesses her love for Kodaka!
And it doesn't end there! After sharing a few months inside a stuffy clubroom with his other half dozen girl friends (not girlfriends, friends who just happen to be girls), Sena, a 17-year-old adolescent, declares in front of everyone that she wants to marry Kodaka. That's when you know what you have between the two of you is real. What is it they say? The longest lasting relationships are born when the couple started out as friends? That's what's happening here.
This abrupt proclamation of love flusters Kodaka, so he begins to avoid attending the Neighbors Club. He evades them for an entire week, and since he's already on the prowl for new friends, he decides to familiarize himself with the members of the student council…
…who all happen to be girls! Hey, don't look at me like that. He's getting to know them. You have to look past someone's surface layers and see them for who they are underneath in order to befriend them, you know. This scene is allegorical.
Fed up with Kodaka's behavior, the Neighbors Club inventor, Rika, confronts him on the school rooftop. There, she batters him black and blue with a new invention and calls him a coward, calling him out on his habit of pretending to ignore all the girls' growing affections for him so as not to make anyone jealous and preserve peace in the neighbors club. Kodaka fully admits his life isn't a harem comedy anime, so he can't make everyone happy just by being nice. Rika tells him that he's being silly, as, without realizing it, everyone in the Neighbors Club has already become friends, and all's well that ends well!
…Actually no, you know what? Let's abandon all pretenses for a minute. I mean, is this shit serious? How smug can possibly you get? Haganai is one of those shows that think, with a couple winks and a few clever turns of phrase, it can wash its hands of all the warmed-over, dime-a-dozen harem anime stunts it's been pulling since the beginning. It's one of those shows that think, with enough self-awareness, it can casually hand wave away all the criticism anyone lobs at it for retracing the same old tired patterns we're now painfully accustomed to seeing. Well sorry, it doesn't work that way. You don't get to have your cake and eat it too.
What the hell does that even mean, Kodaka not being some harem hero? We just sat through twenty-five episodes worth of tepid fanservice unloaded all over our faces. We sat and watched as Kodaka "cleared the flags" of every single teenage girl within his field of vision by merely existing. We sat here, scoffing, as, one after another, pre-teen lolis came charging onscreen, wearing nothing but a smile,to leap face first into Kodaka's loins and call him "Big Bro."Oh, but now you want to play this game with us?
How does what happened on the rooftop even fall in line with the rest of the show? Instead of sitting down and convincing Kodaka to quit being such a spineless wimp and face his club members, Rika decides to blackmail him into meeting, at which point she proceeds to repeatedly assault and hurl snide remarks at him. When Kodaka demands to know what she wants from him, Rika ridiculously screams back with, "I JUST WANT SOME FRIENDS!" I'm sorry, but how exactly does that settle anything? How was that the solution to the argument they just had?
And, of course, since this is like every other harem anime – there ain't no two ways about it – the show ends when Kodaka attempts to give an answer to Sena's confession… only for them to be interrupted by a text message from Yozora right before any meaningful words can be exchanged. Y'see, Yozora totally overheard Kodaka's fight with Rika, which was very similar to her own fight with Kodaka during their childhood. As an absurd result, she somehow decides she must "go on a journey" and runs away from the school like the histrionic head case she is. But you know how anime is. They don't show it, but I can already picture it in the back of my mind – if they ever make a third season, it won't even be two episodes in before they find her. Not only did she leave after seeing the fight that took place a few moments prior, she's also journeying (uh-huh, right) on foot. How far can possibly get? And once they successfully corral her back into the harem, everything will simply revert back to the status quo.
I've heard it said by some fans that Haganai is purportedly different from other harem anime. But what about it makes it so different? What about it truly separates it from its other, stupider peers? It's a tiny bit quicker on the uptake, sure, but so what? It references a whole bunch of anime, but again, so what? The truth is, they're all purely transparent methods to divert your attention away from the fact that Haganai is merely another typical harem. It's all just one big distraction.
Final Grade: